Sit back, sip, and relax as you savour the experience of locally crafted, award-winning wine selections. On a Kamloops Wine Tour, you can luxuriate and relax as you rewind in a lush vista. There are varieties of wine tour companies and options for all levels of wine enthusiasts. For couples or groups, you can expect warm hospitality, relaxed charm, and expert knowledge as you enjoy a peaceful, stress-free specially curated wine experience.
The Kamloops wine trail is naturally interesting and delicious ride for all your senses. The regional wine style offers a flavour profile with depth, complexity, and bright fruit flavours.
The Kamloops Wine Association was formed in 2015, ten years after the first commercial vineyards were planted. The association launched the Kamloops Wine Trail as a collaborative platform to market the Thompson Valley Wine Region. Today, Kamloops is evolving into one of British Columbia's prime wine destinations.
Kamloops has a thriving artistic and culinary culture and a growing community overflowing with small-town charm. You won't be disappointed if you take a detour into the city after your tour.
Still, need convincing? Here are six great reasons to take a wine tour on the Kamloops Wine Trail:
The Award-Winning Wines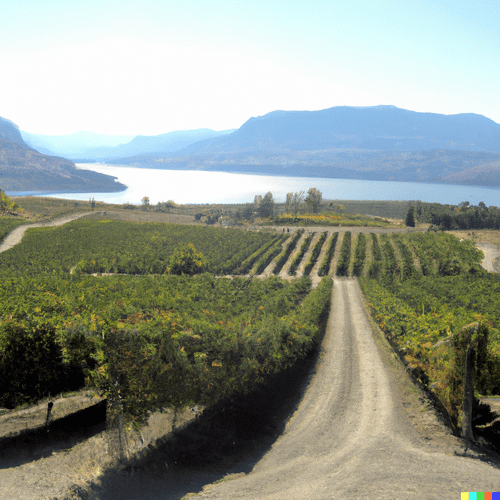 Sample award-winning wines right where they are vinted and aged. You can relax in the wine garden while sipping the delights from the region. Savour the flavour of hand-crafted, local wines as you enjoy the view overlooking the valley vistas of Kamloops. As early as 2019, our wineries had already received over 40 awards for their mouth-watering flavours and intense aromas. Today, they're still receiving awards!
The Scenery at Kamloops Wineries
The views at any vineyard are known for being brilliant and relaxing. Wineries are usually located in cool, dry places where the temperatures are typically pleasant and nurturing for the grapes that go into creating these wines. This is true of our Kamloops wineries. At our wineries, you can enjoy picnics, relaxing strolls, and other outdoor events. A tour of the vineyard will give you a new appreciation for your winemakers.
Experienced Tour Companies
When you take a formally organized wine tour, your agenda will be taken care of for you. Going on a wine tour will give you the chance to enjoy excellent transportation and wine-tasting without worrying about driving afterwards. If you're visiting Kamloops you can see all the wineries in the area for an affordable price. You will be comfortable and pampered as you experience our unique wineries. Even if you are not a wine connoisseur there is something to enjoy about a wine tour in a beautiful vista like Kamloops. Look for one of the local wine tour companies today!
Learn Food and Wine Pairings
On a wine tour, you can gain meaningful insights into wine pairings, pricing, and flavour profile. A good glass of wine is not always about what you like, but can often be about what flavours it pairs well with. There are many factors that go into making a great-tasting wine. A wine tour can give you the knowledge to know which wine is the best for your meal, you can learn how to pick a wine to compliment your palette and stay within your budget. Plus, your newly acquired expert knowledge can enhance the meals you serve for yourself and your guests!
Discover Local History
When you are given a specially curated tour, you will discover that there is a vast and fascinating history that goes into every bottle of wine. Listen to the stories and experience life on the vineyard and you may find that you are suddenly more eager to book your next wine tour.
Meet New People
A wine tour is a great opportunity to find a new friend or two who shares your interest and passion for wine. Many guests on wine tours like the chance to meet new people in a laid-back setting while they discuss a common interest. The social aspect of a tour can alleviate stress, offer entertainment, and provide a chance to create impactful memories.
A Kamloops wine tour will allow you to learn more about the winemaking process and gain a new appreciation for the city's small, locally crafted wine varieties. Taste, Explore and discover the best wine experience Kamloops has to offer.
Contact a Kamloops wine tour provider to book your wine tour this summer!
---
The team here at ABDA is experienced at writing seo-friendly content for wine tour providers and other tourism-based companies. We like to focus on building local and regional search engine rankings for small businesses. If you liked what you read here, and would like wine tour content written for your website, contact us today!
Read more in our Wines category