When it comes to deciding on the inner furnishings in your log cabin, you may want to consider a spiral staircase.
A spiral staircase in a log home is a one-of-a-kind structural element which immediately makes your stairs a unique feature of your interior space. Spiral staircases have one central post to which all the radiating treads are attached, which spiral upward to the floor(s) above. When built well, a spiral staircase can be a statement piece that works well in almost any kind of living space — from open floor plans to smaller living rooms. It is considered a classic design element that adds a touch of sophistication and whimsy to your home.
If you are looking for some specific reasons why a spiral staircase might be the perfect addition to your log home's construction then look no further! Here are the top five benefits of having a spiral staircase in your log home:
Space Optimization
The greatest advantage of a spiral staircase is that it is a great way to utilize limited floor space. Because of its compact design and nature, it is perfect for tight spaces. Whether you are renovating your log cabin or you want to renovate your existing stairs, you will find a mix of function and fashion in a spiral staircase. Landings are custom fitted to accommodate stair rotation, as well as the shape of the opening in the floor above. The unique appearance makes a spiral staircase a handsome and practical focal point for your log home.
Durability
Wooden spiral staircase designs in log homes/cabins are carved from materials like reinforced beech and timber. These materials are highly durable, and are proven to last through many years of wear and tear. This makes the overall staircase very durable. In fact, it would be amiss in a log home to find a spiral staircase that didn't come with a lifetime guarantee.
Chic and Stylish Aesthetic
A spiral staircase is a bold design statement. It's a fantastic combination of style and functionality for any log home. There are many variations of stair and railing styles that you can combine to match your personal aesthetic. Additionally, a spiral staircase offers a 360 degree perspective of the surrounding area. You can get a perfect view into your living room while easing foot traffic in your home.
Staircase railings are an opportunity begging to be customized and decorated as a way to add character to your home. One popular trend is adding hanging plants/string lights to your stairway. Whether you follow trends or not, you have the opportunity to express your creativity in whatever way you would like!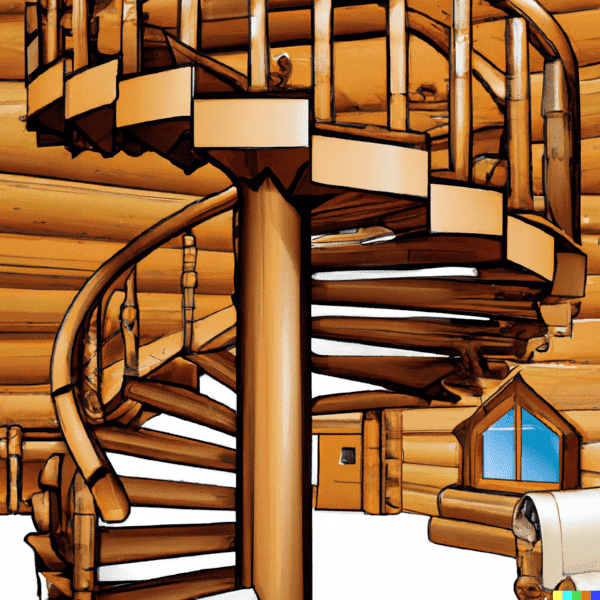 Versatility
You can mold your spiral staircase to meet any design you'd like. The spiral stair is versatile enough to be installed in any kind of space, and can be used as a way to shake up the access points in your home's layout. You can opt for a staircase with a square or round well enclosure to ensure the safety of your occupants and those using your stairs. With spiral staircases, you have access to a wide variety of design options so you can showcase your home's unique character and create a beautiful space in which you will be happy to spend time.
Of course, if function is more important in your case, you might also opt to install your staircase neatly tucked into a corner. This can help to maximize the floor space in your home.
Cost-Effectiveness
A spiral staircase won't cost as much as you might think. Economic benefits include low cost of installation and low cost of maintenance — in addition to the aesthetic value they add to your space. The installation process is often relatively fast and can typically be planned to occur with limited disruption. The task can take only 4-6 hours for a skilled team to complete. Maintenance is easy too! The way a spiral staircase is fabricated and carved leaves you with a feature that won't require costly upkeep.
In the setting of a log home, a spiral staircase carved out of heavy timber may seem like it's right at home. Heavy timber construction specialists like Nicola Logworks build spiral log staircases by hand, but also provide the option to automate construction with a machine to decrease your cost even further.
Looking for spiral log staircases in your log home? Find a log home construction company near you!
---
At ABDA, we create content for websites to help boost SEO. This article would give Google a reason to consider ranking a wood construction company for keywords like "spiral staircase". If you would like content like this on your website, contact us today!
Check out more wood construction content.

Article Sponsored by Nicola Logworks