Entertainment technology has improved so much in recent years. Now you can enjoy the experience of watching your favourite films or television shows on a wide screen from the comfort of your home.
General contractors are typically renovation and development specialists who can install or remodel your personal home theatre room. They should be certified electricians and renovation experts with specialized skills and knowledge in creating custom spaces in homes. They will be passionate about that – especially with home theatre rooms!
The best part about having your own home theatre room is that you are free to customize every aspect. Although technology and many minor details of home theatre rooms have changed throughout the years, the main features have remained the same. Here are a few of the main features you will find:
Large Screen
The core component of your home theatre setup is the screen. Some people opt for a large smart tv, which usually comes pre-loaded with popular streaming services. Alternatively, you might choose to mount a projector to the ceiling for an authentic movie experience.
The technology of screens and projectors changes often, but the need for them always stays the same. No home theatre system is complete without a screen!
Surround Sound System
No matter how good the screen is, it's not the only star of the home theatre room. The audio system is a star too! A full surround sound setup can take your media's audio output to new heights (and volumes!). It is recommended that a professional installer who has experience undertakes the sound setup. The speakers need to be calibrated to your room to avoid distortion or speaker damage. A qualified electrician or general contractor can advise you on speaker arrangement and other aspects, such as whether a 5.1 or 7.1 speaker setup will suit your room and cinema setup best.
If you are interested in installing a home theatre room, contact a local electrician and general contractor today!
Comfortable Seating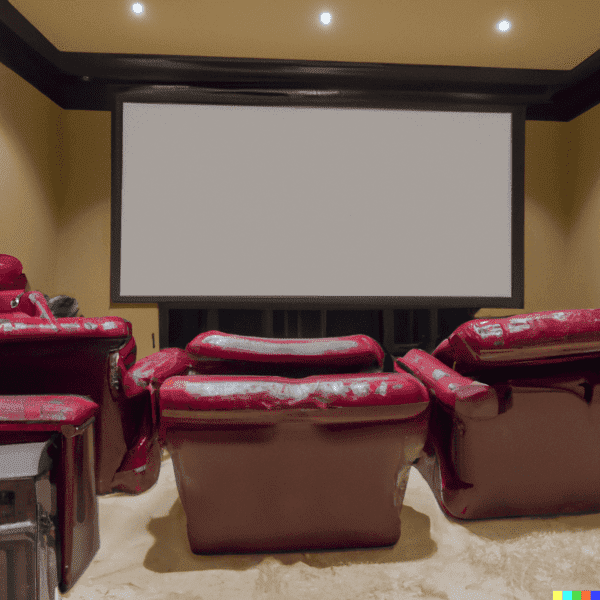 For a fully immersive cinema experience, the seating should be arranged so that no one in the room has their view of the screen blocked, and no one sits too close or too far away. Seating in your home theatre does not need to be fancy or complicated, just convenient and comfortable! Use any comfortable seating that faces forward without obstructing the viewers behind you.
Most cinemas opt for subtly tiered seating to accomplish this — even a 6-inch platform can be enough to provide clear sight lines.
For added luxury, install seats with adjustable footrests and reclining. You might also invest in food and drink holders to keep your theatre room clean during viewings.
Dimmable Lighting
When designing a home theatre room, it is common to limit the amount of light entering the room. Dimmable lighting is an increasingly popular feature, especially smart/remote-controlled solutions. Every movie enthusiast knows that the right lighting creates a relaxing atmosphere and fully immerses viewers in their choice of entertainment. A contractor with a trained lighting engineer on the team can install great lighting options and provide professional consultation.
Sound Insulation
A good cinematic experience includes high quality sound delivered through a state-of-the-art surround sound system — but there's more to the sound than only speakers. Well-designed insulation can help you with the acoustic aspects of installing a home cinema room. If you want to take your sound quality to the next level, it's recommended that you consider professional sound insulation. Proper soundproofing will include insulation for sounds above, below and through joined walls. This can improve your movie-watching experience, and allow your family to enjoy their quiet time outside your theatre room!
A general contractor who is experienced with building home theatre rooms will know exactly what to do to build the best room possible. If you can't live without a home theatre room, reach out to a local general contractor today!
---
The team at ABDA is not a general contractor who builds home theatre rooms. This article is intended to demonstrate our team's writing skills and provide useful information to readers interested in home theatre construction. If you are a general contractor who would like to feature similar content on your website, please feel free to reach out to our content writing team. Thank you for reading!
Click to find more construction and renovation articles!