Embarking on the journey of organizing a large convention in Kamloops is both thrilling and challenging. Among the myriad tasks at hand, budgeting for catering services stands out as a significant aspect that demands careful consideration. The key lies in providing delightful and satisfying meals for attendees without stretching the budget to its limits. This article delves into practical and imaginative budget-friendly catering tips that can make the convention's culinary experience memorable and enjoyable.
If you're not in Kamloops, these tips still apply!
Start with a Well-Defined Budget
Setting a clear and realistic budget for food and beverage services is the crucial first step. Collaborate closely with your chosen catering provider to align their offerings with your financial goals while ensuring that attendees have a delightful dining experience.
Embrace Kamloops' Seasonal and Local Delicacies
Kamloops boasts a rich array of seasonal and locally-sourced ingredients that can add both flavor and affordability to the menu. Opting for local produce not only reduces transportation costs but also connects attendees with the region's unique culinary offerings, elevating their convention experience.
Simple and Elegant Menu Design
Less is often more, and a thoughtfully curated menu featuring a few well-prepared dishes can be just as impressive as a lavish spread. Prioritize quality over quantity to keep food costs in check while presenting the dishes with an elegant touch.
Family-Style or Buffet Service
Consider family-style or buffet service as a cost-effective alternative to plated meals. These service styles require fewer staff members, offer better portion control, and reduce food waste. Additionally, they promote an interactive and engaging atmosphere that enhances networking opportunities among attendees.
Flexibility with Meal Timings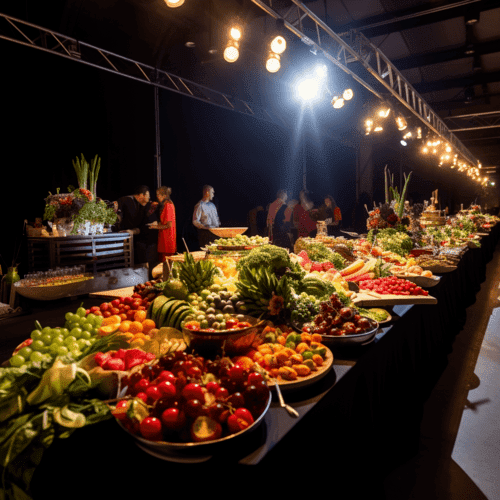 Negotiate with the catering team to tailor meal timings according to the convention's schedule. Offering brunch or lunch options instead of a full dinner menu can be more budget-friendly. Snack stations during breaks are also a cost-effective way to keep attendees satisfied throughout the day.
Beverage Service Options
Beverages can significantly impact the catering budget. Consider providing complimentary non-alcoholic drinks alongside a cash bar for alcoholic beverages. This approach allows attendees to stay refreshed while managing their own beverage expenses.
Embrace Food Stations
Food stations are not only trendy but also cost-effective. Set up interactive food stations that serve a variety of dishes, such as build-your-own sandwich or pasta stations. Attendees can customize their meals, reducing the need for multiple menu options and minimizing waste.
Sustainable Disposables
Eco-friendly disposable tableware and utensils are both budget-friendly and environmentally conscious. Opt for biodegradable or compostable options that still provide a polished and professional presentation.
Collaborate with Local Kamloops Caterers
Engage with local catering companies in Kamloops to explore their understanding of regional pricing and their willingness to offer competitive rates for large events. Supporting local businesses not only strengthens the community but can also lead to positive and fruitful collaborations.
Negotiate with Venues and Suppliers
When finalizing your catering contract, don't hesitate to negotiate. Discuss your budgetary constraints with the caterer, venue, and other suppliers to see if there are any potential cost-saving opportunities, discounts, or package deals available.
By implementing these budget-friendly catering strategies, event organizers can elevate the culinary experience at any large Kamloops convention without straining their financial resources. Embrace Kamloops' local flavors, keep it simple yet elegant, and explore cost-effective service styles to ensure that attendees are well-fed, satisfied, and treated to a truly memorable dining experience.
---
Our content writing specialists at ABDA work hard to create content plans and wite seo-friendly and user-valuable articles that help catering websites get noticed in a broad range of local search results. We're based in BC and enjoy helping small businesses be seen! If you liked this example article, then let us help you write your catering company's next blog post!

Do you want this quality article to simply link to your website? Ask us about that too.

Find more catering articles, for more example of our abilities.